A quick weave is a style that involves bonding hair extensions to your own hair over a protective cap, or applying a unique liquid-gel formula to your own hair and allowing it to dry, harden, and act as a barrier between the hair glue and your own hair. The styling process is simple, easy and doesn't require a lot of time. Your own natural hair will be out of the way, and you won't have to worry about damage or breakage from daily manipulation from daily styling.
As long as you are taking the necessary precautions not to compromise the state of your own hair, quick
weave styles
could actually work as an easy, low-cost protective style that you could do at home. In order to maintain the health of your own hair while protective styling with this method, here are a few pointers I recommend when deciding to install the hair.
PRIOR TO INSTALLING YOUR QUICK WEAVE STYLE
Be sure to clarify your hair before installing a quick weave and follow up with a cool apple cider vinegar rinse. Also use a good deep conditioner and a
protein treatment
to strengthen the hair, if necessary.
It is important to retain as much moisture as possible if you plan to have your hair covered for the next 2-3 weeks. Before any protective style, you want to make sure that you properly prepare your hair by taking the necessary steps of pre-styling maintenance. Massage your scalp with a light-weight oil such as coconut oil, carrot oil, apricot oil or jojoba oil.
Use a moisturizing leave-in conditioner to protect your natural hair from drying out and be sure that your hair is completely dry before installing the weave.
Installing a weave over wet or damp hair can cause bacteria growth, mildew and hair funk. No one likes to walk around smelling like an old dish rag.
Next, apply a protective solution to prevent any contact between your natural hair and the bonding glue. There are some ladies who choose to omit the protective solution and use a thick gel as a barrier instead. However, this is never recommended.
The bonding glue will become stuck to your own hair and when removing your weave, you will likely remove some of your own hair with it. Remember, the key to protective styling is to protect your own hair from damage. The last thing you want to do is become the cause of unnecessary damage to your hair.
The key to protective styling is to prevent breakage, damage, possible hair loss and excessive shedding. Using gel as a barrier or applying hair bonding glue directly to your hair would be a hair disaster waiting to happen, and also defeating the purpose of protective styling.
If the protective solution ever begins to tug at your edges or the nape of the neck, remove the weave from those areas by adding oil to the hair that is being tugged. The solution becomes extremely hard and if tugging at your hair, the weight will cause the hair to break and possibly result in balding.


AFTER INSTALLING YOUR QUICK WEAVE
Keep your natural hair moisturized as much as possible. If you are using a protective solution, this may be difficult as you may not even be able to get to your own hair. I do not recommend wearing your quick weave any longer than 2-3 weeks, especially if you are using a protective solution.
TAKING DOWN THE STYLE WITHOUT DAMAGING YOUR HAIR
When removing the quick weave, under no circumstances should you yank or tug at the weave. This is the worse possible way to remove a quick weave and can result in serious hair damage.
If using a protective solution such as
Morning Glory Gro Protect Solutions
, all you have to do is allow lukewarm water to run directly through the weave and your scalp. After two o three minutes, the solution will begin to loosen and the hair weave will slide right out.
CARING FOR YOUR HAIR AFTER THE QUICK WEAVE IS REMOVED
After carefully removing your quick weave, follow up with a hot oil treatment and co-wash before shampooing your hair. Your natural hair may become tangled or matted if you attempt to shampoo immediately after removing the weave. Next, use a good clarifying shampoo. Only one lather and rinse is necessary. Be sure to focus primarily on the scalp.
A deep conditioner such as
Shea Moisture's Raw Shea Butter Treatment Masque
is also recommended. It may also be best to refrain from any heat styling for at least 3-5 days. Now that your weave is removed, your hair is in a fragile state and heat styling should be avoided until the hair is strong enough to tolerate the added stress.
I'm not a huge fan of quick weaves personally, but I'm not against them either. If you're knowledgeable about your hair and take the time to care for it properly, a quick weave could be just right for you if you need an immediate protective styling option, or just want to give your natural hair a break from manipulation or heat styling.
I always say if you do decide to install a quick weave, try to opt for a hair texture that is similar to your own natural hair texture.
Kinky hair weave
is available in an array of textures and curl patterns, so you can play around with different "natural" hair styles and have fun with your new look. When it comes to protective styling,
your options are never limited
. Just remember to take care of your own natural hair and maintain it by keeping it clean and moisturized while enjoying your new protective hairstyle!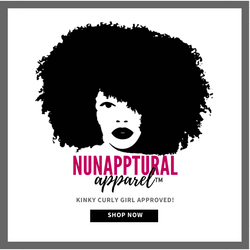 If you like this post, be sure to SHARE!